Kerala has a prominent place in the tourism map of India. The green lush environment, the mild climate, the customs and traditions and more over the tasty cuisines attracts tourists from different parts of the world to the 'God's Own Country'. In order to promote tourism in the state, the Kerala tourism department has initiated numerous projects, attracting more tourists to the state.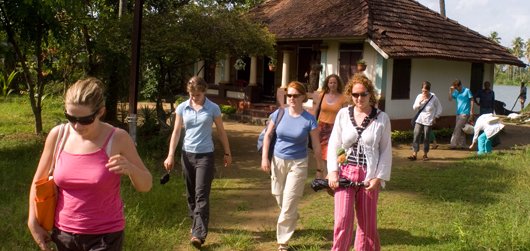 'Responsible Tourism' is one such project, which has bought great fame to the Kerala Tourism Department. This project makes the local people to get involved in promoting tourism projects in their respective places. Along with improving tourism in the state, this also helps the locals to earn bread and also to sustain the nature.
It was in 2007, the department of tourism decided to implement 'Responsible Tourism' (RT) in Kerala. Kumarakom, Wayanad, Kovalam and Thekkady were selected for this purpose. But it was the project implemented in Kumarakom, which got noticed. The responsible tourism initiative in Kumarakom was inaugurated by then Minister of Kerala Tourism, Kodiyeri Balakrishnan on 14 March 2008.
Some of the major achievements and interventions by the responsible tourism initiative in Kumarakom are:
Enhancing Agricultural Productions
With the help of responsible tourism, the government was able to initiate agricultural activities in those lands which were left fallow because of low yield, low demand for agriculture produces etc. The department approached the kudumbashree volunteers and made them to take up paddy cultivation in 55 acres of land. They also initiated the Grama Panchayat to boost vegetable cultivation in another 30 acres. Now this helped the farmers to return to agricultural production and to increase the cultivations. Thus responsible tourism indirectly began to push farm tourism in Kerala.
Fish Farms and Lotus Cultivation
The unused ponds were cleaned and promoted for fish cultivation and lotus cultivation. This indirectly improved the living condition of the local community.