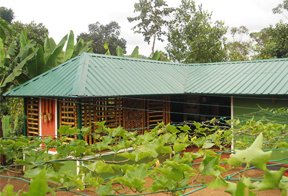 An eco friendly and holistic farmhouse experience await you at Harithavanam. This picturesque countryside by the river Periyar at Vandiperiyar, Thekkady offers you the opportunity for a hands-on treat of village life, a wholesome farmhouse living. A unique and offbeat destination to unwind and explore with the enchanting smell of earth surrounded by mountains and plantation, the whispers of the valleys and the chirping of birds add to the charm of this farm experience.
Activities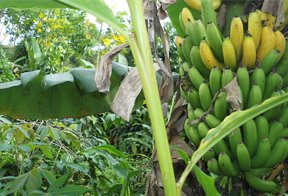 For the adventurous and carefree, go on a rock trekking and fishing spree with the local fishermen. Enjoy the fresh water catch cooked in traditional flavors. Order your customized menu, try your culinary skills with our chef, and chill out by the campfire and savor authentic Kerala cuisine.
For nature lovers, go cattle grazing, do your own farming, take a plantation tour and experience the joys of rural setting. Change your lifestyle as you soak in the pure elements amidst a wide variety of plants, trees and shrubs, flowers and fruits, birds and farm animals.
From children to adults, from couples to families, from natives to foreigners, there is something for everyone... Jungle safari, Elephant rides, Forest exploration, Tea Plantation tour and factory visits,Kathakali (dance form of Kerala) etc are arranged on request.