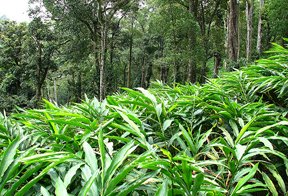 An eco friendly and holistic farmhouse experience await you at Harithavanam. This picturesque countryside by the river Periyar at Vandiperiyar, Thekkady offers you the opportunity for a hands-on treat of village life, a wholesome farmhouse living. A unique and offbeat destination to unwind and explore with the enchanting smell of earth surrounded by mountains and plantation, the whispers of the valleys and the chirping of birds add to the charm of this farm experience.
The spiritual nature, the positive energy, the breathtaking sunrise and sunsets, the blue ocean of the 'Kurinji' blossoms, the rare and unique trees, flowers and herbs of the forest, the lovely fresh mountain air and the pristine spring water are some of the reasons which inspired the team to realise that this was the calling, and thay wanted to share this with the whole world. Ambady Estate's focus is on the well-being of the soul and to bring you closer to nature and to celebrate this unique pilgrimage of the inner self.
Activities
You can observe and participate in plantation activities, which include picking and processing of cardamom, coffee and pepper.