Staying at Philipkutty's Farm, Kottayam, is an excellent opportunity to enjoy the real Kerala experience in a fascinating location, with a caring family to look after you. It is a special place, as it provides something different, especially for those who prefer small, friendly places, and it is the perfect hideaway for the bespoke traveller. All this is set on a beautiful farm island, which was reclaimed from the backwaters of Lake Vembanad in the early 1950's .
Farm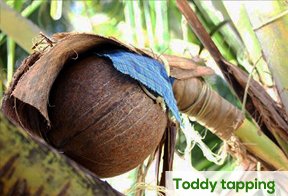 The farm is located on a small island (approximately 750 acres) in the backwaters by Vembanad Lake near Kumarakom within the Vechoor village limits. The farm is about 35 acres and is the largest farm on the island. The farm is made up of ridges and canals, with all the planting done on the ridges.


The major crops on the farm were coconut, toddy tapping, nutmeg, cocoa, banana, pepper and many other fruits, vegetables and spices. The farm also has a few cows, geese, ducks and hens. You can also find here Vechoor Cows. The farm was a 'modern' farm but are keen in cutting down usage of chemicals and relying more on organic and natural farming methods.